Worldwide delivery is available (either from Ukraine or China)
We do not sell to Russia, Belarus, and Turkey.
--------------------------------
Buy at Aliexpress here https://www.aliexpress.com/item/1005006273914143.html

--------------------------------

The full product page is here - https://smlight.tech/product/slzb-07/
Manual and flashing instructions - https://smlight.tech/manual-slzb-07/

--------------------------------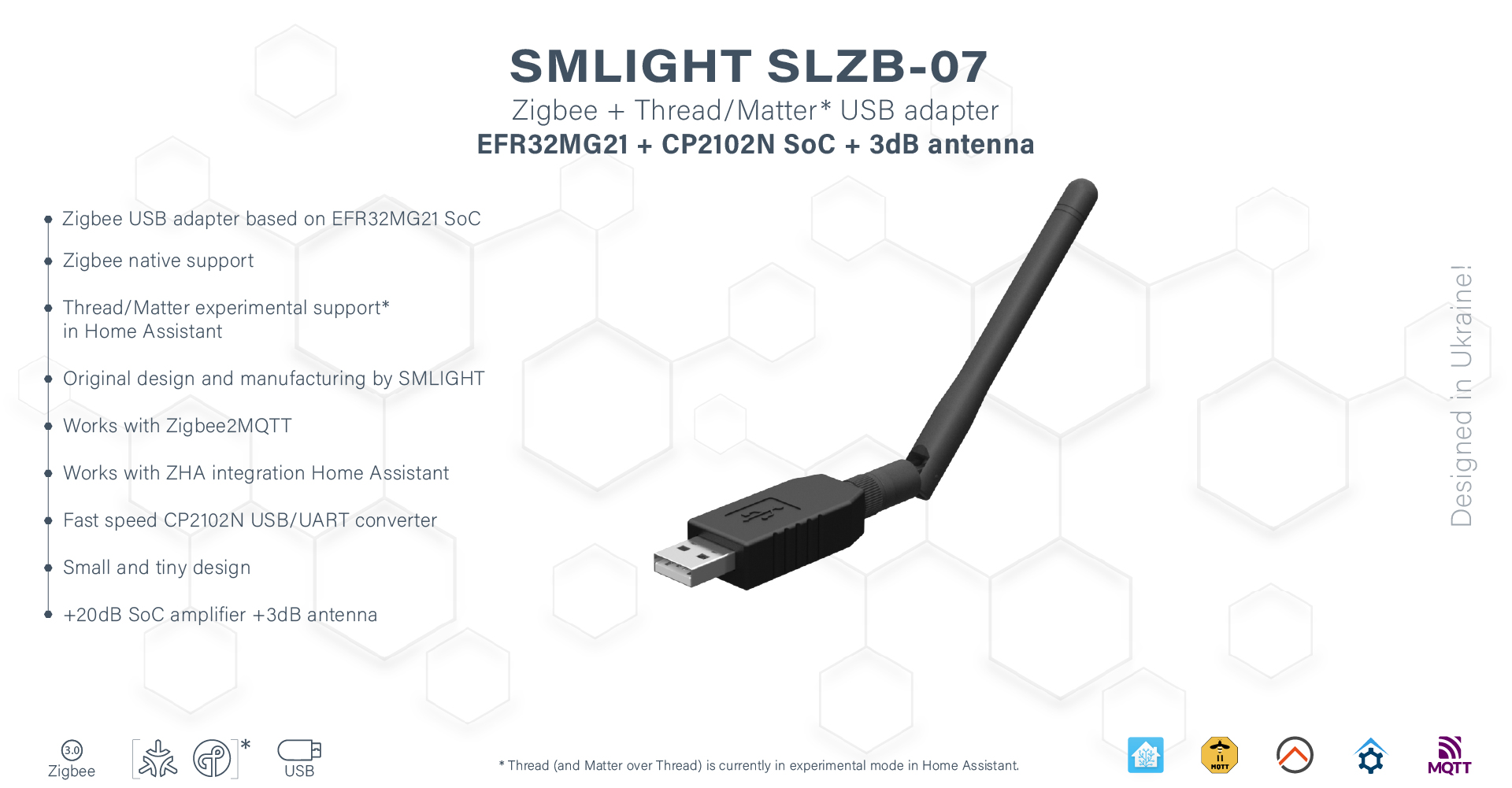 TOP Highlights: ZIGBEE TO USB adapter based on EFR32MG21 and +20dB Amplifier and +3dB antenna;
Pre-flashed and ready-to-use with ZHA Home Assistant and Zigbee2MQTT;
Zigbee 3.0 support and Thread/Matter ready through multipan firmware;
A rich package that includes the device itself and antenna, QR manual/helper;
EFR21MG21 chip with +20dB amplifier

+3dB antenna included;
tini cool design that can fit any place;
paper box, safe delivery to your country;
flashing Zigbee without physical access possible;
each device individually tested before shipment;


SMLIGHT SLZB-07 Zigbee USB coordinator based on EFR32MG21 and CP2102N from SMLight is a USB Zigbee coordinator used to control Zigbee devices in smart home systems using the Zigbee2MQTT or ZHA Home Assistant application.
Shipped with:
SMLIGH SLZB-07 Zigbee USB coordinator ;
Antenna +3dB;
Manual QR;
Paper box;
HOW TO START
full manual can be found on the product's official page
TOP highlights:
choice №1 of USA customers and liked by many other countries!;
out of the box works with zigbee2mqtt - just plug&play; flashed with the latest firmware;
USB powered;
5dB antenna included for long and wide area coverage and good link quality (lqi)!!;
EFR32MG21 based latest powerful chip-based;

the

firmware

could be

updated

distantly for Zigbee;
POSITIVE FEEDBACK!!
DELIVERY TO MANY COUNTRIES (6-14 business days)
4. Packing
Each item is individually packed, which prohibits damage during the shipment.
There are no reviews for this product.
No questions about this product.
Have a look on this
Similar products