Worldwide delivery (from Ukraine or China) - this shop or Aliexpress-1, Aliexpress 2 or Tindie;

Fast local delivery:
We do not sell to Russia, Belarus and Turkey.
--------------------------------

The full product manual is here - https://smlight.tech/manual/slzb-06/

The official product page is here - https://smlight.tech/product/slzb-06/
Review of the latest firmware 2.x - https://www.youtube.com/watch?v=q3cWHQ8CdcA

--------------------------------
ALSO SLZB-06M MODEL BASED ON EFR32 chip is AVAILABLE. PLEASE ORDER IT HERE.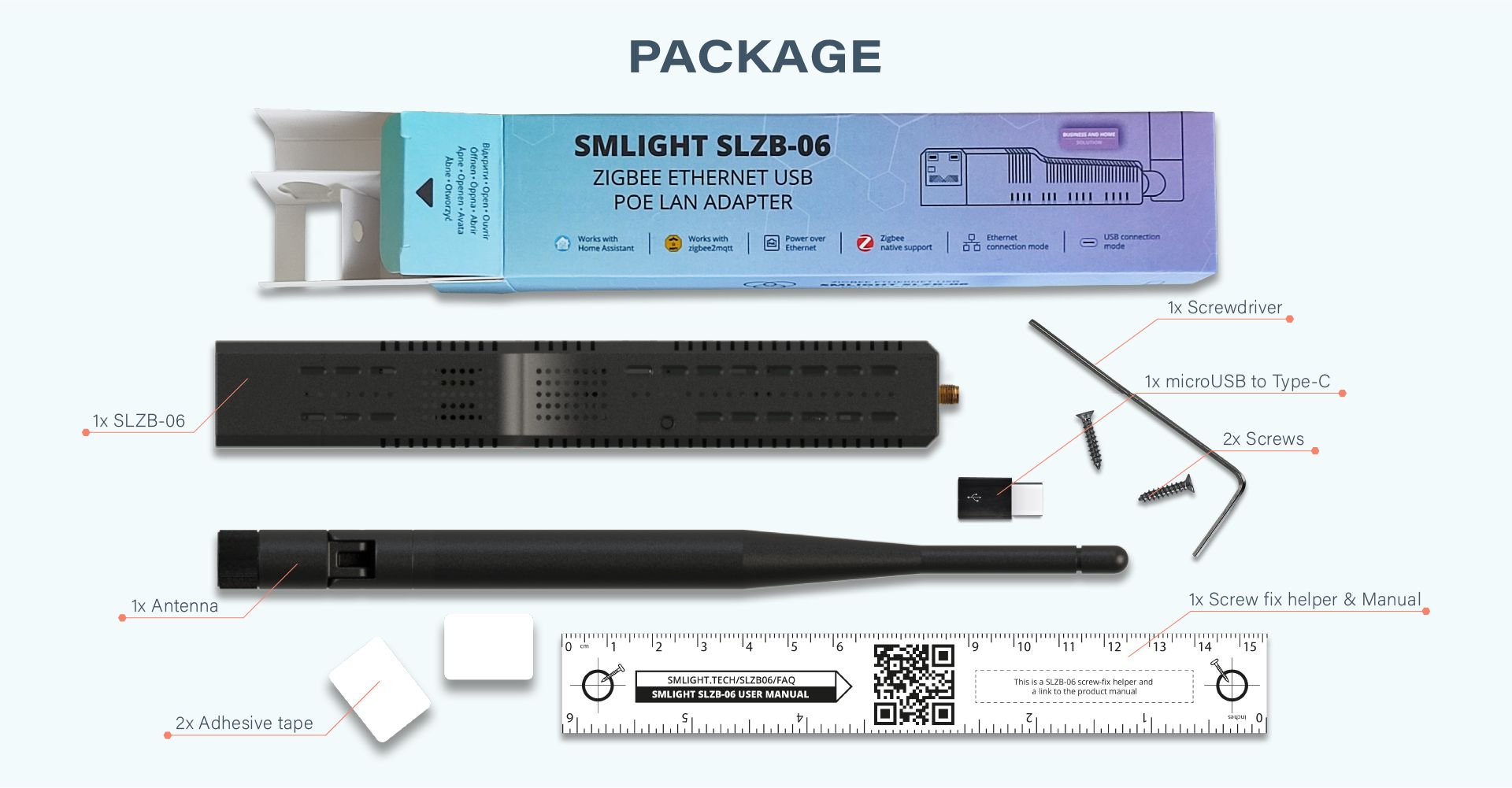 TOP Highlights:
ZIGBEE TO LAN OR USB OR WIFI adapter based on CC2652P and +20dB Amplifier and 5dB antenna;
supports POE powering but also can be powered by type-C power or by micro-USB

with the connector that comes with the adapter;
Rich package that includes device itself and antenna, screws for fixing, scre helper, two-sided adhesive tapes, microUSB-typeC adapter.;
CC2652P chip with +20dB amplifier

5dB antenna included;
tini cool design that can fit any place;
paper box, safe delivery to your country;
flashing Zigbee and ESP over LAN;
each device individually tested before shipment;
The Zigbee LAN coordinator allows you to solve several issues:

Free choice of the coordinator's location. The location of the coordinator is independent of the server and may be away from the server;
Proportionally increasing the maximum number of Zigbee devices on the network. The number of possible devices operating in the smart home system is proportionally increased by the number of coordinators. One CC2652P module can connect about 150 devices. Two CC2652P modules will already connect 300 devices;
Reliable expansion of Zigbee network coverage. If you have a large area that needs to be covered by a Zigbee network, trusting only devices in router mode is not as secure as trusting an additional LAN coordinator. Because any failure or disconnection of the Zigbee router will disable the devices for which it was triggered by the connecting element. Thus, it is possible to connect even remote, unrelated objects, for example, different apartments, houses, a house, a garage, etc. to one server;
SMLIGHT SLZB-06 Zigbee LAN PoE USB WiFI coordinator based on CC2652P and ESP32 from SMLight is a TCP / IP Zigbee coordinator used to control Zigbee devices in smart home systems using the zigbee2mqtt application.
The coordinator is delivered ready to go. Flashed:
Zigbee part: with firmware or from Koenkk (Koen Kanters).

ESP/LAN part: open-source community-driven firmware (see official webpage);
Shipped with:
SMLIGH SLZB-06 Zigbee LAN coordinator ;
Antenna 5dB;
Connector micro-USB to type-C;
Screw-fix-helper and Manual QR;
2x screws;
2x adhesive tapes;
1x screwdriver;
Paper box;
HOW TO START
full manual can be found at the product official page
TOP highlights:
choice №1 of USA customers and liked by many other countries!;
out of the box works with zigbee2mqtt - just plug&play; flashed with the latest firmware;
PoE or USB powered;
5dB antenna included for long and wide area coverage and good link quality (lqi)!!;
CC2652P

based latest powerful chip-based;

the

firmware

could be

updated

distantly for both Zigbee and ESP
POSITIVE FEEDBACK!!
DELIVERY TO MANY COUNTRIES (6-14 business days)
Packing
Each item is individually packed, which prohibits damage during the shipment. Packing includes
When I received the device, I was very happy to have this POE option and so I started with a second instance of Z2M.
After getting this started I tried to integrate some Zigbee devices, but interviewing failed always.
So I opened a ticket and I got an answer very quickly.
Everything did not help, and finally I started to try to update to e dev FW. This failed, maybe due to my PC hardware, as well.
Than I got a message to get in touch with a developer, and finally the newest FW on ESP32 and ZIGBEE are flashed.
Thank you Serge and Taras!
Regards Christoph
Good packaging, price and delivery. Working easy and well with Home Assistant. Will buy another.
Very good packaging, parcel received without damage. Great price and fast delivery! Excellent quality universal Zigbee adapter! Without problems connected to my Home Assistant. Works great, many settings, Web Interface! If you are a Home Assistant user it is a must have ;) LAN/WiFi/USB connection, works with HA Zigbee2MQTT and ZHA addon! Very good and responsible seller and excellent store! (https://www.aliexpress.com/item/1005005130479982.html)
Super easy set up, works perfectly with a number of different types of Zigbee devices, and integrates easily into zigbee2mqtt over ethernet. Very happy with the device and would highly recommend it to anyone who wants to connect their zigbee devices into zigbee2mqtt and/or home assistant. I'd give it 6 stars if I could (https://www.aliexpress.com/item/1005004942648430.html)
Well thought off and built Zigbee gateway. I bought like 4 of different types including HamGeek, Sonoff- this one is by far best quality for commercial deployment. Will buy again (https://www.aliexpress.com/item/1005004942648430.html)
Hi, how many devices (routers or battery-powered) are supported?
Will it run stable connecting about 200 devices (thereof about 50 routers)

Many thanks Christian
The administration's response:
A maximum of about 150 devices, a large number of routers can cause problems even with smaller numbers of devices
what's the current requirement for the device? Can it be powered via a USB C port from a thin-client like HP T530?
The administration's response:
standard power of the USB port (500 mA) is enough to power SLZB-06
USB-A - type-C cable should be used for power supply
Device was connected via UPS and PoE switch. After short power down (UPS and other devices continued to work properly). The coordinator stopped to work. Do you have any email or other way to contact your support for try to restore coordinator?
The administration's response:
Hi Evgeny,
Sad to hear this, please write us direct info@smartlight.me to resolve this issue
Can this devide work as a Bluetooth coordinator. Like to collect data from others BLE devices and send to Mqtt/HA?
The administration's response:
https://smlight.tech/manual/slzb-06/guide/bt-proxy/
Does the SLZB-06 support Zigbee Green Power devices like the Senic Gira Friends of Hue switches? I'm planning to use it with Zigbee2MQTT.
The administration's response:
The short answer is no.
Messages from Green Power devices cannot be "understood" by normal Zigbee devices, therefore they need to be "translated" first. Not all Zigbee devices can do this translation, currently the only devices known to do this are Philips Hue devices. This means that the Green Power device has to be in range of a Philips Hue device in order to use it.
Have a look on this
Similar products