SLZB-06 Zigbee Ethernet PoE USB LAN WIFI Adapter
Worldwide delivery (from Ukraine or China) - this shop or Aliexpress-1, Aliexpress 2 or Tindie;

Fast local delivery:
We do not sell to Russia and Turkey.
--------------------------------

The full product manual is here - https://smlight.tech/manual/slzb-06/

The official product page is here - https://smlight.tech/product/slzb-06/
Firmware v0.9.8 review here - https://www.youtube.com/watch?v=BNA-ghy3Niw
--------------------------------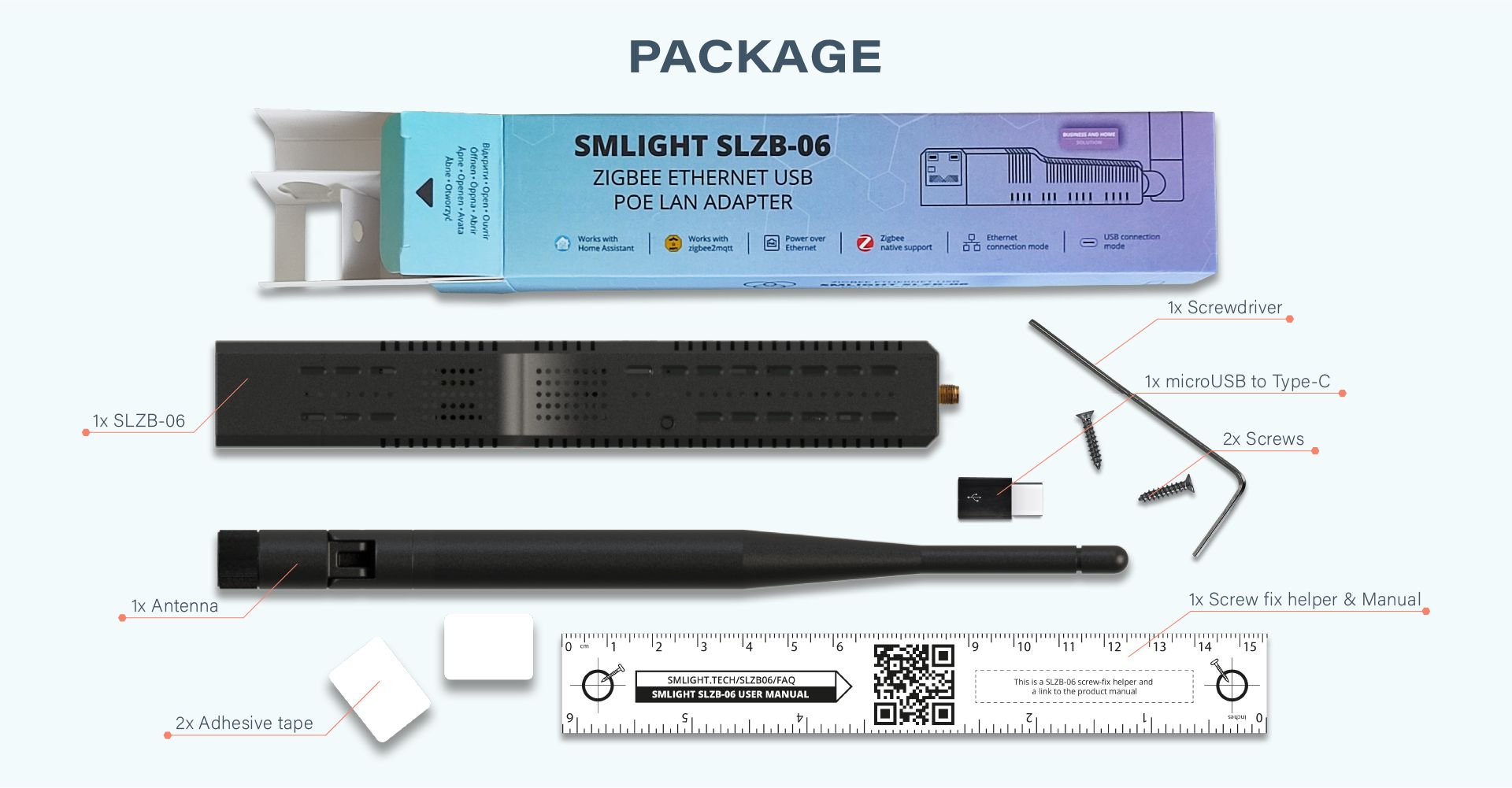 TOP Highlights:
ZIGBEE TO LAN OR USB OR WIFI adapter based on CC2652P and +20dB Amplifier and 5dB antenna;
supports POE powering but also can be powered by type-C power or by micro-USB

with the connector that comes with the adapter;
Rich package that includes device itself and antenna, screws for fixing, scre helper, two-sided adhesive tapes, microUSB-typeC adapter.;
CC2652P chip with +20dB amplifier

5dB antenna included;
tini cool design that can fit any place;
paper box, safe delivery to your country;
flashing Zigbee and ESP over LAN;
each device individually tested before shipment;
The Zigbee LAN coordinator allows you to solve several issues:

Free choice of the coordinator's location. The location of the coordinator is independent of the server and may be away from the server;
Proportionally increasing the maximum number of Zigbee devices on the network. The number of possible devices operating in the smart home system is proportionally increased by the number of coordinators. One CC2652P module can connect about 150 devices. Two CC2652P modules will already connect 300 devices;
Reliable expansion of Zigbee network coverage. If you have a large area that needs to be covered by a Zigbee network, trusting only devices in router mode is not as secure as trusting an additional LAN coordinator. Because any failure or disconnection of the Zigbee router will disable the devices for which it was triggered by the connecting element. Thus, it is possible to connect even remote, unrelated objects, for example, different apartments, houses, a house, a garage, etc. to one server;
SMLIGHT SLZB-06 Zigbee LAN PoE USB WiFI coordinator based on CC2652P and ESP32 from SMLight is a TCP / IP Zigbee coordinator used to control Zigbee devices in smart home systems using the zigbee2mqtt application.
The coordinator is delivered ready to go. Flashed:
Zigbee part: with firmware or from Koenkk (Koen Kanters).

ESP/LAN part: open-source community-driven firmware (see official webpage);
Shipped with:
SMLIGH SLZB-06 Zigbee LAN coordinator ;
Antenna 5dB;
Connector micro-USB to type-C;
Screw-fix-helper and Manual QR;
2x screws;
2x adhesive tapes;
1x screwdriver;
Paper box;
HOW TO START
full manual can be found at the product official page
TOP highlights:
choice №1 of USA customers and liked by many other countries!;
out of the box works with zigbee2mqtt - just plug&play; flashed with the latest firmware;
PoE or USB powered;
5dB antenna included for long and wide area coverage and good link quality (lqi)!!;
CC2652P

based latest powerful chip-based;

the

firmware

could be

updated

distantly for both Zigbee and ESP
POSITIVE FEEDBACK!!
DELIVERY TO MANY COUNTRIES (6-14 business days)
Packing
Each item is individually packed, which prohibits damage during the shipment. Packing includes
I love mine as well. I have mine hooked up POE in a completely different area than my home assistant machine and it is solid with no dropoffs. Its reach also seems better and my network is much more reliable. I was going to add another one to the network in my barn but it does not seem to need it now. I use Zigbbe2MQTT . (https://www.facebook.com/groups/HomeAssistant/posts/3377102542561092/)
Mihai Costache
29/11/2022
I am using it. It works fantastically. Infinite faster than the one I had in the beginning, when I started my zigbee network (a C2531 based dongle) and much faster than the one I've been using until I got this product (I was using one from AliExpress, with the same processor). Strongly recommend it. If additional information needed, let me know. I will be more than happy to answer. BTW, besides the product itself, man, they have an outstanding customer support in case you need it. (https://www.facebook.com/groups/HomeAssistant/posts/3361394887465191)
Bojan Potočnik
28/11/2022
Ordered some to replace my DIY gateways - I'm really impressed by the build quality and features for this price (y) (https://www.facebook.com/groups/HomeAssistant/posts/3377102542561092/)
Toni Kaislaoja
27/11/2022
First about the product: It's awesome, I think that it might be best Zigbee coordinator at this moment. The manual is really good and it's really well supported by Zigbee2MQTT project as well. I had some questions to the support because I wanted to move my existing zigbee setup to behind this coordinator. The support was really fast and good. I was able to chat with them via Telegram directly (During Sunday evening!) what else I can wish for? Only neutral thing was quite long shipping time.
Martin Granger
26/11/2022
131 devices and counting! Seems pretty solid at the moment.
I'm using Z2m with a SMLIGHT SLZB-06 Zigbee adapter. I have this working over LAN.
I did have a conbee2 stick on Deconz which was starting to struggle, so made the change to the stick above.
One added bonus is that before, I couldn't send both brightness and colour changes to my IKEA lights at the same time (known issue). This now works fine. (https://www.facebook.com/groups/HomeAssistant/permalink/3374295472841799)
Similar products